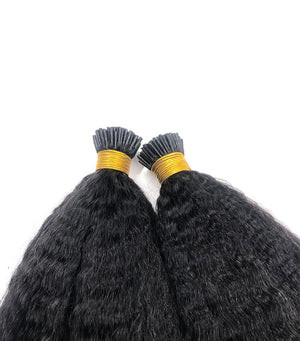 avannaclairecollection
Luxe I-Tip extensions - Kinky straight
Sale price Price $120.00 Regular price Unit price / per
Our Malaysian kinky straight hair is perfect for textures 4a-4c and gives a perfect blend whether your hair is silk pressed or blown-out. Whether your hair is coily curls or zig zag curl texture, It is perfect for those who like to wear their hair natural without the need of constantly straightening.
Natural dark brown #1b ( can be colour treated )
Double drawn full from root to ends 
No blend of synthetic fibres , tangle free, minimal shedding 
Can last up to 12 months with proper care and maintenance 
Density guideline & tape recommendation 
(50pcs itips come in a bundle weighing 50g) 
150g is recommended for a natural install (not so thick)(150 itips)
200g - is  recommended for full head natural install (200 itips)
250g/300g - is recommended maximum fullness (250-300 itips) and also for longer lengths depending on the head space allowed.