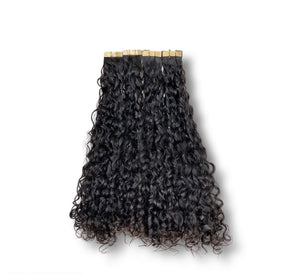 avannaclairecollection
Luxe Tape extensions - Romantic Curl
Sale price Price $120.00 Regular price Unit price / per
Our Malaysian Romantic Curl hair is perfect for textures 3a-3c and gives a perfect blend whether your hair is silk pressed or blown-out. It is suitable for clients with small bouncy curls looking to achieve a natural and voluminous look. The curls have lustre and can be straightened or worn in natural texture.
Natural dark brown #1b ( can be colour treated )
Double drawn full from root to ends 
No blend of synthetic fibres , tangle free, minimal shedding 
Can last up to 12 months with proper care and maintenance 
Density guideline & tape recommendation 

(20 tapes come in a bundle weighing 50g) 
150g is recommended for a natural install (not so thick)(60 tapes)
200g - is  recommended for full head natural install (80 tapes)
250g/300g - is recommended maximum fullness (100-120 tapes) and also for longer lengths depending on the head space allowed.